At Nebraska-Omaha It's Thanks for the Title, Now Hit the Road
We've gotten quite accustomed to seeing athletic programs eliminated every Spring. We don't like it. We know that it's unfair. But we know why and how it happens over and over again.
But what we'll never get used to is seeing a national championship caliber program eliminated with nary a shrug of the shoulders.
That's exactly what happened earlier this week when the University of Nebraska at Omaha announced that it was dropping football and wrestling as a pre-requisite before joining the Summit Conference in NCAA's Division I. The announcement came just one day after the wrestling team won its third straight NCAA Division II National Championship. Give credit to athletics director Trev Alberts, who said that the programs were being cut for financial reasons and to help improve the school's position vis-a-vis Title IX.
One look at the data from the EADA cutting tool shows why this is the case: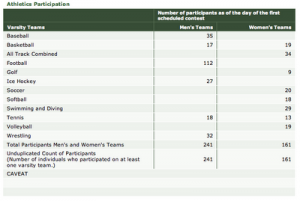 According to this data, the school has a slight majority of female students (4,718 to 4,308), a ratio of roughly 51% to 49%. However, there is a large majority of male athletes in the athletic department (241 to 161). That's a ratio of virtually 60% male to 40% female, and that won't do.
So how do you fix it? Just subtract 144 pesky male wrestlers and football players, and your ratio is suddenly 62% to 38% in favor of the female students. That won't do either. So, you just add men's soccer and golf (29 slots to mirror the number of female athletes) and you're up to 126 male athletes and a ratio of 55% female to 45% male, a ratio that I'm sure would please the folks at the Department of Education's Office of Civil Rights. If not, then I'm sure that the school could very well expand the rosters to get closer to mirroring the 51% female to 49% male ratio in the student body.
As angry as this situation makes me, there's plenty to take away from this. For years, gender quotas advocates have suggested that Title IX can't be blamed when programs that are poor performers are cut. But that's not the case here, where a team that's won three straight national titles has been blown out of existence. They also like to say that football is the real problem, but as we can plainly see, football isn't a problem anymore at Nebraska-Omaha, and neither are the 112 athletes who made up the football team.