In Defense of Karch Kiraly
When arguing with gender quota advocates about Title IX, it's important to remember that the other side really only wants one of two possible outcomes: Either agree with all of their points or just shut up. If you don't believe me, take a look again at some of these folks in their most candid moments and you'll see what I mean.
The latest example of that comes from the the blog on gender and sports,
After Atalanta
, a publication that wants to subject sports announcers to a political test before getting on the air:
So I was kind of disturbed to see former v-baller Karch Kiralyi (sic) doing the commentary for the [NCAA Women's Division I Volleyball] tournament. Kiralyi is a board member of the Fairness in Sports Foundation. Fairness in Sports is dedicated to bringing back the "original intent" of Title IX. Of course the original intent of Title IX was to make sure women were not discriminated against in hiring decisions in educational institutions. But FISF does not like the use of Title IX to "promote" athletics on campuses even though they tout their male board members as working to fight against the elimination of men's athletics. I could go on about how they call themselves Title IX advocates…but another time and probably another place.

Anyway, I don't think ESPN should let people who actively campaign against equitable participation of women in sports, cover women's sports.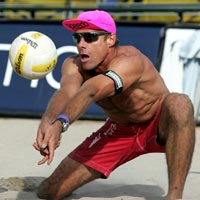 When it comes to sports broadcasting, there ought to be one simple standard: can the announcer do the job? And when it comes to Kiraly, who by all accounts is simply the best volleyball player, male or female, that America has ever produced, you'd figure he'd have all the bases covered. If you don't believe me, take a look at Kiraly's Wikipedia entry. If three Olympic golds, a world championship, three NCAA titles and 148 AVP Tour wins isn't enough, I don't know what else might be of help.
Then again, it's that record that makes Kiraly so dangerous. He's an Olympic hero, one that's led his nation to victory three times in a sport dominated by other nations. He's more than familiar with the stone cold fact that men's college volleyball is far smaller than its female counterpart, and that the
gender quotas used to enforce Title IX are making it impossible for the sport to grow
, despite ample evidence of growing interest.
Furthermore, no American has done more to popularize beach volleyball in this country, a movement that helped lead to the
NCAA adopting it as an emerging sport
. The great irony there, of course, is that NCAA beach volleyball is only open to women and not to men.
So, if Kiraly takes a public stand in favor of reforming Title IX, the other side isn't willing to debate him because they're likely to lose. So, instead of engaging Kiraly in a debate, they'd rather take a shot at destroying him. Something tells me that Kiraly is made of sterner stuff than his critics imagine.